What's On

Innkeeper's Hour at Joshua's Tavern

From 4-6pm, Tuesday - Friday throughout January and February
Dates

04/01/2022 - 04/01/2022

Location

Price
Innkeeper's Hour at Joshua's Tavern The timeless tavern takes its name from former resident of Leicester Square, Sir Joshua Reynolds. First president of The Royal Academy of Arts and a leading painter of his time, Sir Joshua used to reside at what is now Fanum House on Leicester Square and was known to frequent the local public houses for a lively old time! The interiors of Joshua's Tavern takes inspiration from Sir Joshua Reynolds' artwork. Pay close attention to the tavern walls and you'll spot a striking mural which cheekily features an intoxicated Sir Joshua stretched across the tavern walls - a humorous touch and a playful look at the raucous past of Leicester Square.A new watering hole for like minded locals, creative communities and professionals around Leicester Square. Sir Joshua's Tavern is offering a pint or a house Gin & Tonic and popcorn, for £5! Grab your colleagues for an early afternoon sesh at the copper coloured tavern, take your ideation session to a new setting or set Joshua's as the place to meet a mate or date.Throughout January and now extended into Feb, scrap the Dry Jan and replace it with Dry Gin! From Tuesday to Friday between 4 - 6pm, park yourself up and enjoy Innkeeper's Hour!
Innkeeper's Hour: A pint or house Gin & Tonic & popcorn for £5
Tuesday to Friday | 4pm - 6pm January - February Joshua's Tavern
Terms & Conditions: Excludes service charge. Only available Tuesday to Friday 4pm - 6pm. No other drinks available.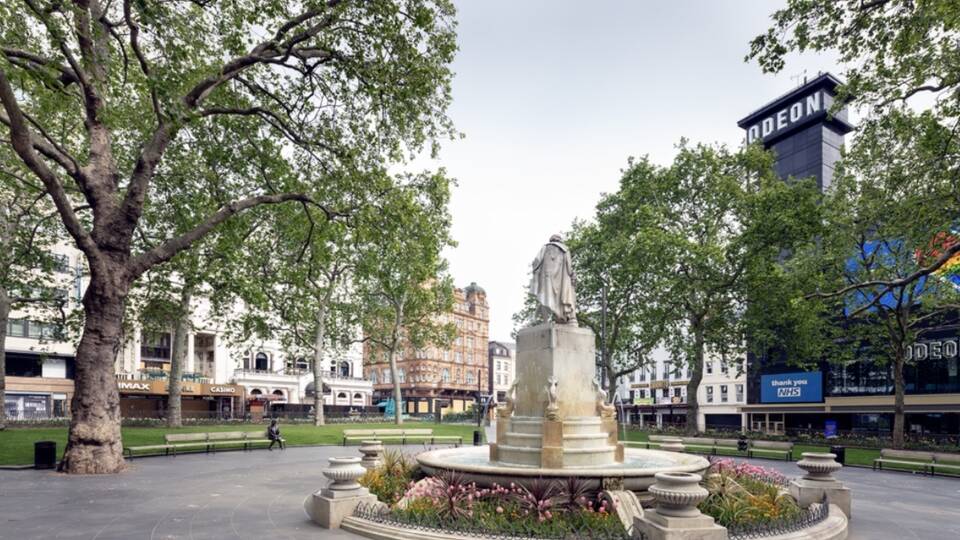 Red Square
Leicester square has been home to a number of historical figures. Statues of William Hogarth, Sir Joshua Reynolds, John Hunter and Sir Isaac Newton have all featured in the gardens, which at the centre, permanently showcases William Shakespeare.