What's On

The Book of Mormon at Prince of Wales Theatre

Temporarily closed - The Book of Mormon, the Award-winning Broadway musical from the creators of South Park.
Dates

16/04/2018 - 16/04/2018

Location

Coventry Street, W1D 6AS

Price

££
Bright, fierce and hysterical to watchThe Book of Mormon is one of those plays you just have to see, and with it's central location moments away from Leicester Square, it makes a great night out paired with one of our great
restaurants or bars
.The Book of Mormon is a musical comedy making light of various Mormon beliefs and practices, but ultimately endorses the positive power of love and service. The play follows two young missionaries who are sent to Uganda to try to convert citizens to the Mormon religion.One missionary, Elder Price, is an enthusiastic go-getter with a strong dedication to his faith, while his partner, Elder Cunningham, is a socially awkward but well meaning nerd whose tendency to embroider the truth soon lands him in trouble. The pair venture on a trip to Africa and what unfolds next is what you'll enjoy the most.
Book your tickets online here
.An Award-winning Broadway musical
The Sunday Telegraph -
"It's hilarious. God have mercy upon my soul"
Time Out -
"The asteroid that wiped out the dinosaurs was scarcely more of a hit"
Metro -
"Foul-mouthed, funny and wild. Terrifically entertaining"Production running time: 2hr 30min (inc. interval)So cleverly composed, see the Book of Mormon an outrageous musical comedy from
Trey Parker
and
Matt Stone
, the creators of South Park. Exclusively at the Prince of Wales Theatre in London's home of entertainment, Leicester Square.
Find out more about the play here
.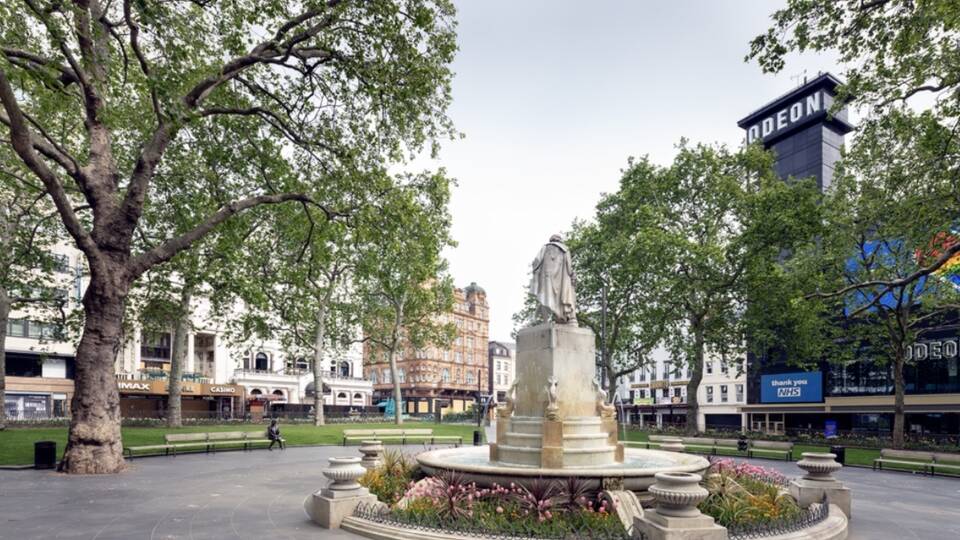 Covent Garden to Leicester Square
Leicester square has been home to a number of historical figures. Statues of William Hogarth, Sir Joshua Reynolds, John Hunter and Sir Isaac Newton have all featured in the gardens, which at the centre, permanently showcases William Shakespeare.