Discover
Browse public events, exhibitions and complementary dining from leading art galleries and institutions for the ultimate cultural experience in London's West End.
Indulgent, Impulsive and Irresistable
Prepare for a sensory overload of lip-smacking food from family favourites to some of the finest dining in the city. Embrace the buzz of London's iconic square with a plate of tantalising tacos or sip skilfully crafted cocktails amongst celebrities. Planning a big night? Then finish it all off with a midnight feast in London's best steakhouse.
Food & Drink Categories
24/7 since 1670
From the Queen's encounter with Marilyn Monroe, to the Rolling Stones' first gigs, Leicester Square has hosted some of the most iconic moments of stage and screen. Today, there's no shortage of audacious entertainment, thanks to the 4DX cinema experience, many of London's oldest theatres and a nightclub with a dazzling 17,000 mirror disco ball.
Entertainment Categories
A stay that's anything but square
Rest your head in landmark luxury or stay with the stars in one of one of London's hippest hotels. The vibrant plaza of Leicester Square affords guests the chance to sleep steps away from the glittering glamour of the West End. From a converted townhouse to a contemporary icon, there's no better place to relax after a day of discovery.
Where to stay Categories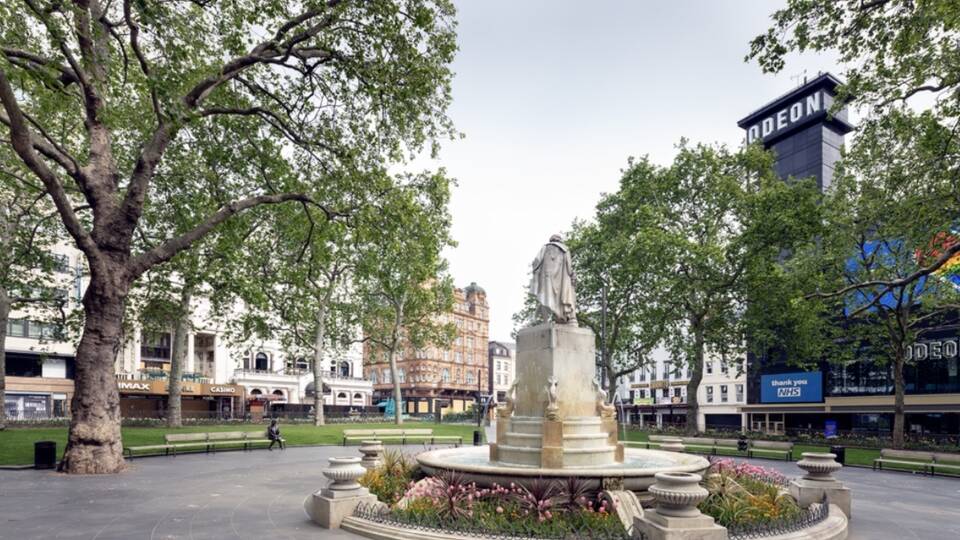 Newton to Shakespeare
In 1849, whilst in London, Karl Marx lived in the German Hotel, which is now Leicester House.