What's On

Bangkok Thai: The Busaba Cookbook
Dates

04/10/2018 - 04/10/2018

Location

35b Panton Street, SW1Y 4EA

Price

£25.00
Gan Gin Gan Yuu: 'As you eat, so you are'Get your hands on the modern cookery bible from the UK's favourite Thai restaurant! Featuring over 100 modern Thai recipes from the chefs at Busaba, bring the powerful, surprising and authentic flavours of Bangkok into the heart of your own home.Transport your table to Thailand's vibrant capital with a distinctive Busaba twist. From the classic pad Thai and refreshing
som tam
salad, to smoky chargrilled calamari and indulgent banana fritters, the innovative Busaba recipes reflect the simple aim of Thai cooking: it's all about the flavour.Five main chapters guide this foodie adventure – Street, Feast, Fresh, Sweet and Bar – with each divided into different cooking styles, accompanied by tips from the Busaba 'school of wok' culinary classes. Including easy-to-find ingredients with shortcuts and hacks, so you can enjoy all-time favourites and intriguing new flavours at home with minimum fuss!
Purchase your copy here
.Busaba is modern Bangkok diningHaving opened its first restaurant on London's Wardour Street in 2003, there are now 13 restaurants across London.Where a love of Thai food and culture collide, the award-winning Busaba name has become synonymous with the simple flavours and freshness of authentic Thai food, served in bold Bangkok-influenced surroundings. At the heart of everything Busaba stands for is the culture of
sookjai
, meaning 'happy heart'. Based on traditional Buddhist values,
sookjai
is about avoiding the everyday chaos that distracts you and instead, taking life as it comes and creating your own reality.Escape from the hustle and bustle of London's West End, and
reserve your table today
.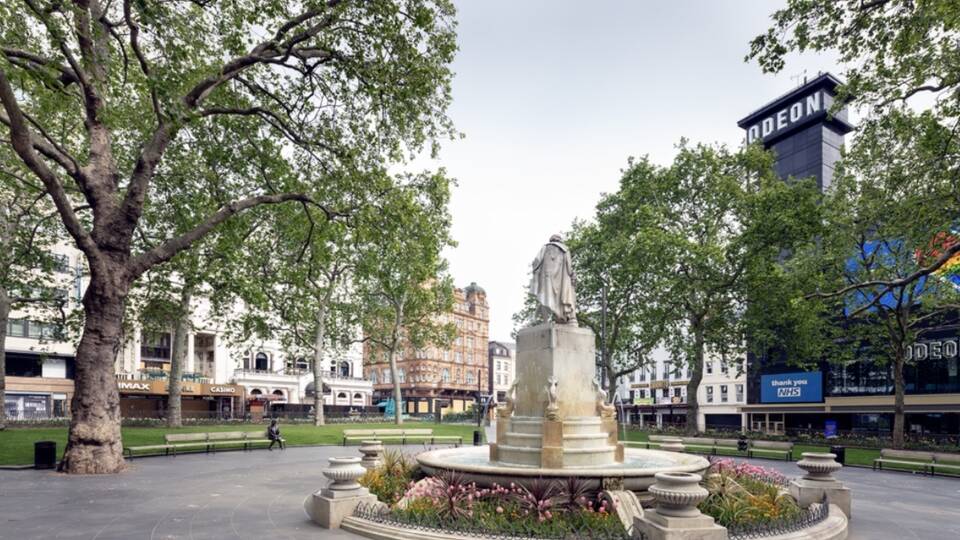 Newton to Shakespeare
Leicester square has been home to a number of historical figures. Statues of William Hogarth, Sir Joshua Reynolds, John Hunter and Sir Isaac Newton have all featured in the gardens, which at the centre, permanently showcases William Shakespeare.