What's On

Celebrate Women in Film at Vue West End

Take a seat at Vue cinema in Leicester Square and revel in a movie marathon to celebrate women in film this season!
Dates

11/03/2019 - 11/03/2019

Location

3 Cranbourn Street, WC2H 7AL

Price

££
A unique viewing experiencePop out the popcorn and prepare for a viewing sensation at
Vue West End
.Keep your eyes on the floor to see a unique wonder before you walk through the doors. Discover six golden hand-prints from famous film stars situated in the pavement just outside.Belonging to stars including Dame Judi Dench, Helen Mirren and more, these real-life hand prints are a statement feature and a great way of celebrating women in film in Leicester Square. Take a selfie with the stars, or pop your hands inside theirs to see how they match up for size!Whatever you do, we'd love to see what you've been up too! And if you do, you could feature on our social media feeds too. All you need to do is tag us @
DiscoverLSQ
or #DiscoverLSQ.If you ready to book your tickets,
reserve them online here
. Or call
+44

0345 308 4620
to make your booking.The perfect treatAfter all that excitement you'll probably be ready to sit back, relax and soak up a film in super comfy recliner seats.But before you do, why don't you check out Vue's great little cinema bar? The perfect pit-stop for a bite to eat and a cocktail or two before your movie marathon starts. Or, you could end your night here too.Whatever you decide to do, make sure you celebrate it with Vue.And this season, we're big-ing up the leading ladies in film. So, for our top picks focusing on women in film keep scrolling!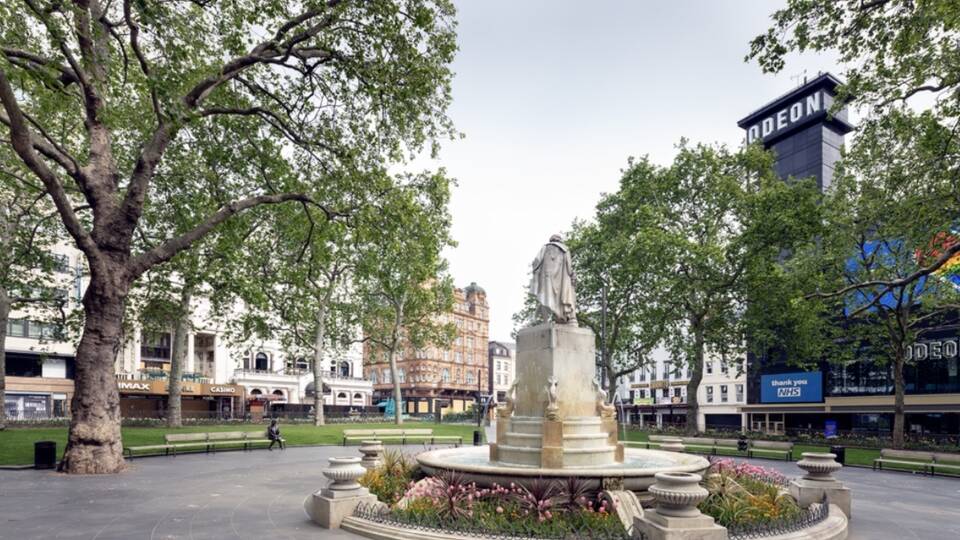 Duel Purpose
Leicester square has been home to a number of historical figures. Statues of William Hogarth, Sir Joshua Reynolds, John Hunter and Sir Isaac Newton have all featured in the gardens, which at the centre, permanently showcases William Shakespeare.