What's On

Eddie Peake CIRCA 2020

Immerse yourself in free public art as London emerges from lockdown with the third artist CIRCA has commissioned to take over Piccadilly Circus in December.
Dates

01/12/2020 - 01/12/2020

Location

Piccadilly Circus, London, W1J 9HP

Price
This December, don't miss the third instalment by
CIRCA
from a series of immerse displays showing on the Piccadilly Lights in Piccadilly Circus.Every evening at precisely 20:20 GMT throughout December, Eddie Peake will display his works, A Dream Of A Real Memory on the iconic London landmark.A Dream Of A Real Memory is a devised drama featuring three characters set within a green screen cyclorama. See abstract movement and dance employed as metaphoric means to engage ideas of tension and power dynamics embedded in relationships between people, or in individuals' internal pursuit of their own self-identity.The footage of the sixty-two-minute video work, screened in daily two-minute episodes over 31 days, is reversed, beginning at "the end" of the performance, showing the performers' tired bodies and messy makeup, and ending at "the beginning" of the performance. The backwards motion of the work is analogous with the distorted and fantastical-seeming realm of both dreams and memories, which though connected to reality can also warp and misrepresent it.By revealing the filmmaker himself, the fracturing of the fourth wall emphasises the deceptive boundaries which dreams, memories, and reality possess.This must-see free public art installation is a development of Peake's live performance and performance-to-camera works, as well as a continuation of his interest in the screen as a physical object and conduit for the blending of multiple realities. The green screen is featured as a deliberate visible element and could be a fourth character within the drama, or perhaps even its protagonist.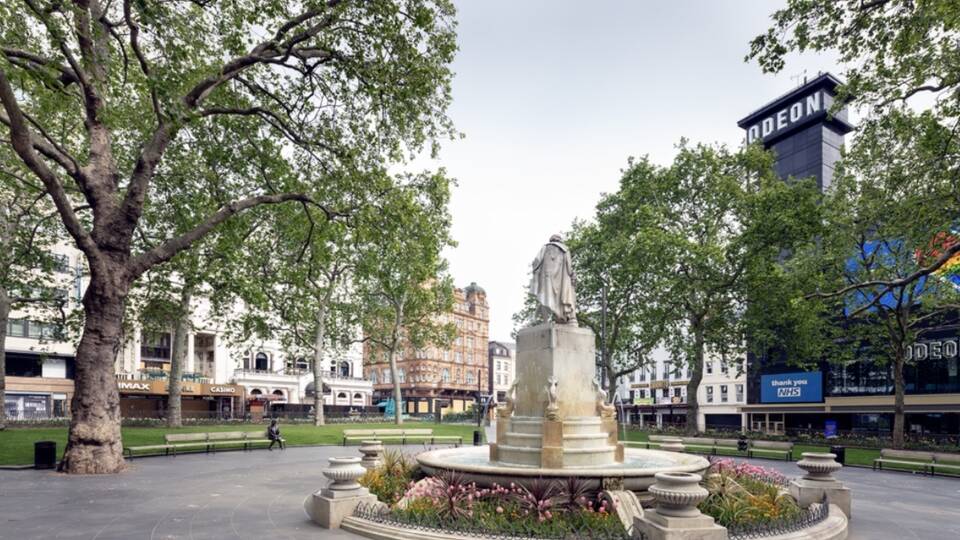 Red Square
Throughout the 17th century, Leicester Square was a notorious duelling location. Famous duels are said to have occurred here, including one between a Captain French and Captain Coote.