What's On

Explore the Best of London This Bank Holiday Weekend

This bank holiday weekend is the perfect time to explore all that London has to offer. Whether you're a fan of art and food, or just love the energy of city life, London has it all. So why not come and experience it for yourself?
Dates

26/05/2023 - 26/05/2023

Location

West End, London, UK

Price

£-££
W London Hotel
Start your bank holiday weekend at the W London Away Spa, an urban oasis in Leicester Square where you can escape the city's hustle and bustle. Enjoy rejuvenating treatments by renowned therapists and immerse yourself in ultimate relaxation.
For an adrenaline rush, visit FIT, W London's cutting-edge fitness facility. Push your limits with invigorating workouts and state-of-the-art equipment, ensuring a refreshing start to your weekend.
W London's prime location allows you to indulge in the cultural offerings, trendy shops, and bustling entertainment venues that surround you.
Kick off your bank holiday weekend in style at the W London Away Spa. Discover tranquillity, indulge in luxurious treatments, and embrace the vibrant energy of the city.
Mr White's
Step into the elegant atmosphere of Mr. White's and treat yourself to a luxurious afternoon tea experience. Discover a delightful array of sandwiches, freshly baked sultana scones with creamy clotted cream, and a tempting selection of sweet treats.
But there's more to enjoy! Take your afternoon tea to the next level with Mr. White's exquisite options. Try the Prosecco Afternoon Tea for a touch of luxury, featuring the renowned Bolla Prosecco. If you prefer champagne, indulge in the Champagne Afternoon Tea, accompanied by the exquisite Cuvée Rosé Laurent-Perrier. And for gin lovers, the Gin and Tonic Afternoon Tea awaits, offering a unique and delightful adventure that combines the flavours of Mr. White's G&T.
Join Mr. White's for an afternoon tea experience that is refined, indulgent, and filled with delicious flavours.
24-hour advance bookings are essential
Jungle Cave
Jungle Cave, an immersive jungle adventure located in the heart of London's West End at Piccadilly Circus.
Are you accompanied by children? If so, this is the perfect place for you!
Beneath the bustling cityscape, hidden away from the concrete jungle, lies the untamed wilderness of the Jungle Cave. It offers a captivating Amazon rainforest ambience, just a short distance from the world-famous Piccadilly Circus.
Immerse yourself in a jungle getaway and embark on a thrilling journey through the vibrant flora and fauna of Jungle Cave. Encounter majestic elephants, playful gorillas, a graceful jaguar in the treetops, and the endearing baby orangutan with its mother.
As you explore further, be delighted by the enchanting flutter of their mechanical butterflies and the charming tree frogs and luxuriating crocodiles in their waterfall homes.
Join Jungle Cave for an unforgettable wild experience in the heart of the city!
Stacks & Stills
If you're a pancake lover looking for something different and exciting, then you have to check out Stack & Still in Leicester Square! This restaurant is known for its vast array of pancakes, allowing you to create your own stack from nearly 12 million possible combinations.
That's right - you read it correctly. With so many options available, you could have a different plate of pancakes every day for over 35,000 years! That's more than a lifetime's worth of pancakes.
But don't worry if you're feeling a little overwhelmed with all the choices. Stack & Still has got you covered with their delicious Signature dishes. Their chefs have come up with some mouth-watering sweet and savoury options that are sure to satisfy your cravings.
Head over to Stack & Still and get ready for a stack-tastic time. Whether you create your own unique pancake stack or try one of their Signature dishes, you won't be disappointed!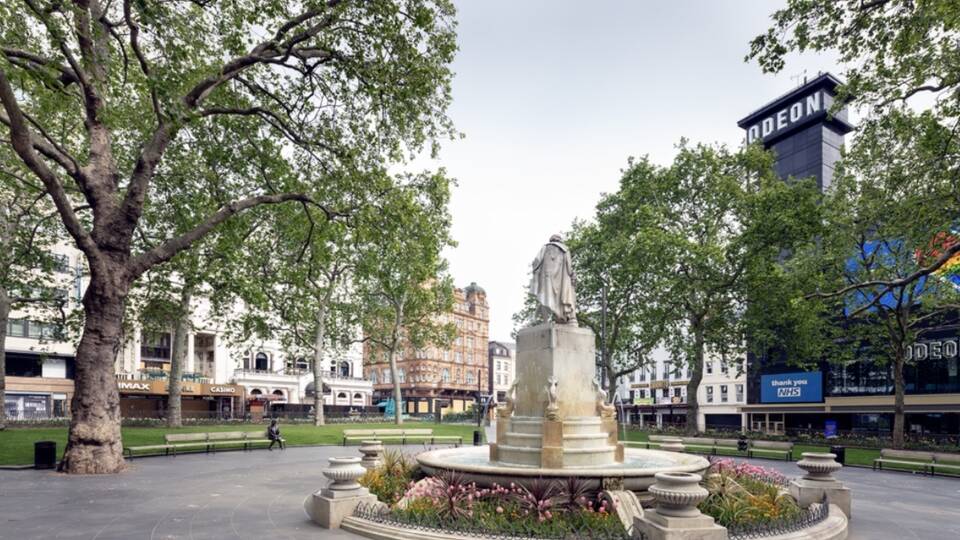 Duel Purpose
The tube journey on the Piccadilly line between Leicester Square and Covent Garden is London's shortest, travelling only 260 metres. It lasts only 45 seconds and at £29.81 per mile, is one of the worlds' most expensive rail journeys – enough of an incentive to take the scenic route and walk.