What's On

Freddie for a Week at Hard Rock Cafe Piccadilly Circus

Love Freddie Mercury? Get ready to ROCK ON at Hard Rock Cafe Piccadilly Circus for the ULTIMATE celebration marking what would have been Freddie's 73rd birthday.
Dates

05/09/2019 - 05/09/2019

Location

Criterion Building, 225-229 Piccadilly, W1J 9HR

Price

££
Are you ready to Freddie?Join us to celebrate the legend that is Freddie Mercury from the 5
th
- 11
th
September 2019, to raise money for the Mercury Phoenix Trust.
Hard Rock Cafe Piccadilly Circus
are celebrating what would have been Freddie's 73
rd
birthday with a week of Queen activities.Get ready to be served delicious food by Freddie himself, as the staff take part in 'Freddie dress-up', only on 5
th
September. Plus, enjoy plenty more photo props, Queen music and competitions to commemorate the legend.What's more, don't miss Freddie Mercury's legendary microphone on display exclusively at Hard Rock Cafe Piccadilly Circus as part of their infamous memorabilia collection!So, what are you waiting for?Reserve your table online by tapping the button below. Or, call or email using the details below:T: +44 020 7287 4600E:
Piccadilly_circus_social@hardrock.com
Is this the real life? Is this just fantasy?Don't forget to discover the limited-edition t-shirts available to purchase in the
Hard Rock Rock Shop
. Plus, the amazing new Freddie shake and Freddie moustaches, with proceeds benefitting the Mercury Phoenix Trust.For one week only, the marvelous 'Freddie's Mustache Milkshake' are available as an ode to the icon, Freddie Mercury.Fitted with a custom chocolate brownie mustache, the milkshake celebrates this little thing called love-love for the legend.When you visit, take part in the social media madness and help get Freddie trending! Use #AreYouReadyToFreddie #HardRockCafe #FreddieForAWeek and see if we can put Freddie back in the spotlight again.Want to find out more? Tap below to visit Hard Rock Cafe online.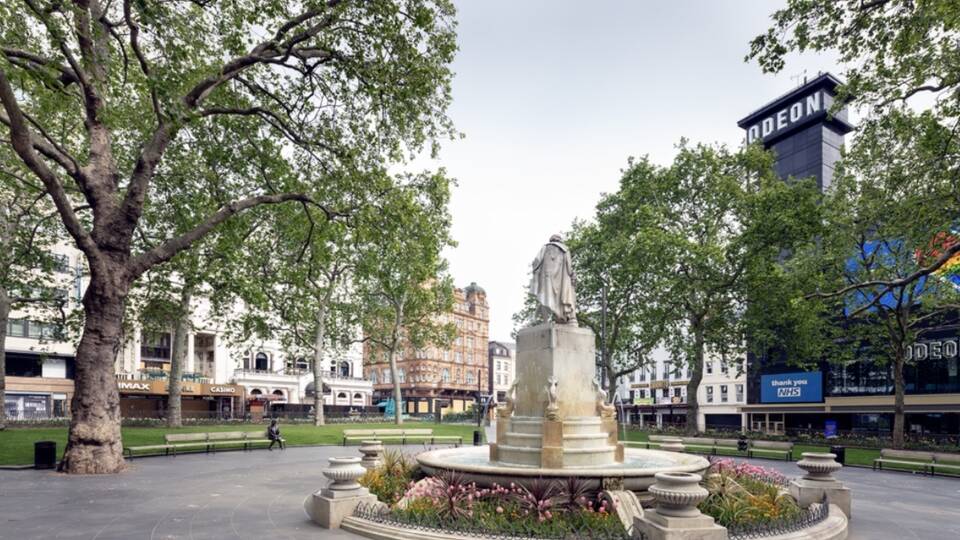 Covent Garden to Leicester Square
Throughout the 17th century, Leicester Square was a notorious duelling location. Famous duels are said to have occurred here, including one between a Captain French and Captain Coote.