What's On

Tantalising Gin Specials at Farzi Café

Offering a decedent display of Cambridge Gin cocktails, prepare to be amazed by Farzi Café as you discover another side to Leicester Square and Piccadilly Circus.
Dates

16/08/2019 - 16/08/2019

Location

8 Haymarket, SW1Y 4BP

Price

£££
Sip on summer specialsLooking for an extraordinary film festival experience?Offering a selection of sumptuous Gin specials exclusively for the August bank holiday weekend, discover
Farzi Café
and uncover the West End's hidden treasure.From £10 each, enjoy 'The Cambridge Club' cocktail, served with citrus and black raspberry foam to the triumphant 'The Truffle', served with a nutty sweet vermouth, chocolatey bitters, plus more captivating Cambridge Gin cocktails.Filled with Indian inspired glamour, Farzi Café provides a mesmerizing dining experience. There's something to make everyone's taste buds dance with delight as you are surrounded by splendid interiors, vibrant colours and decadent dishes.Reserve your table and savour every special moment. Tap below to book online, or call or email using:T: +44 020 3981 0090E:
restaurant@farzilondon.com
Experience a slice of IndiaFarzi Café is a modern spice bistro serving cutting edge, avant-garde Indian cuisine with a twist.One of the finest restaurants in the West End, experience a slice of the phenomenon that's swept across India and is now proudly home in London's Haymarket.Enjoy a selection of special cocktails for a limited time only. Cocktails include:
The Cambridge Club £10 Cambridge Dry Gin homogenised with raspberries, clarified grapefruit, citrus & black raspberry foam
The Truffle £10 Cambridge Truffle Gin, Casoni walnut sweet vermouth, Campari, Creme de cacao, chocolate bitters
The Japanese £10 Cambridge Japanese Gin, shiso, umeshu, yuzu, plum bitters, citric acid, Hambledon English sparkling wine
Featuring impeccable service and mouth-watering food and drinks, there's simply no better place to dine this bank holiday weekend.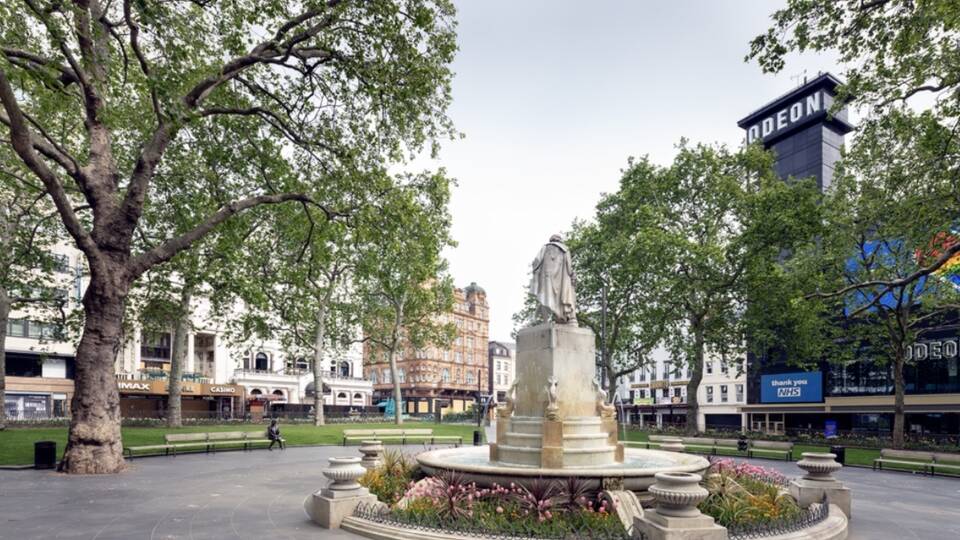 Covent Garden to Leicester Square
Leicester square has been home to a number of historical figures. Statues of William Hogarth, Sir Joshua Reynolds, John Hunter and Sir Isaac Newton have all featured in the gardens, which at the centre, permanently showcases William Shakespeare.